Investment Opportunities in the State of Parana for the UK Market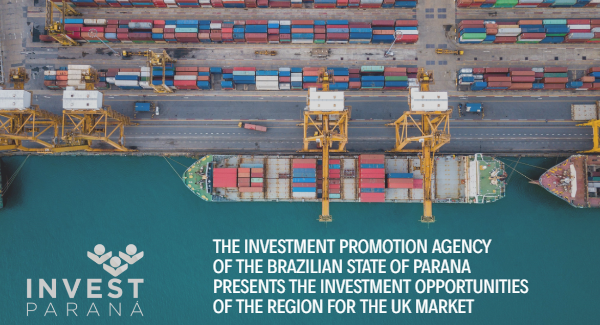 With a GDP of 400.29 billion BRL (around £50.93 billion), the state of Parana offers a strong and secure fiscal and legal system and it is the fifth economy among the 27 Brazilian Federal states.
Parana stands out for its quality of life. With abundant natural and cultural resources, and a diversified gastronomy, it is also the home of the largest waterfall system in the world, the Iguazu Falls.
In the webinar, Invest Parana, the investment promotion agency of the region, in partnership with the Brazilian Chamber of Commerce in Great Britain, will hold an online presentation on the investment opportunities in the region for the UK market.
---
Programme:
Welcome - Vera Innes, Chair, Brazilian Chamber of Commerce in Great Britain

Opening Remarks - Adam Paul Patterson, British Honorary Consul in Curitiba, Brazil

Overview of the economic scenario in Parana - Eduardo Bekin, CEO, Investment Parana

Investment opportunities in Parana - Giancarlo Rocco, Director of International Relations, Investment Parana

Q&A with Parana experts

Closing Remarks - Adam Paul Patterson, British Honorary Consul in Curitiba, Brazil

When
April 23rd, 2021 2:00 PM through 3:00 PM